Virgin Bet FIVES is a compelling free-to-play game that offers players the opportunity to win real cash prizes. On this page, you'll learn everything you need to know, including how it works, how much you can win & how you can play Virgin FIVES.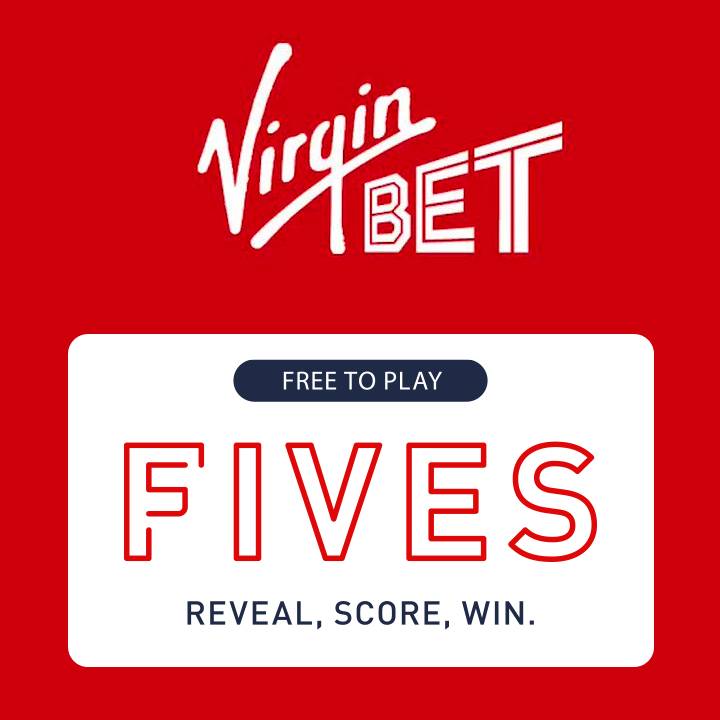 What Is Virgin Bet FIVES?
Virgin Bet FIVES is an engaging and straightforward game offered by the renowned bookmaker Virgin Bet. It provides an avenue for participants to enjoy some thrilling football action while standing a chance to win sizeable cash rewards on a weekly basis.
This game is a hybrid of traditional sports betting and fantasy football, offering a unique twist on these popular activities. It is free to participate in Virgin Bet FIVES, and it is open to both existing and new Virgin Bet customers.
How Does FIVES Work on Virgin Bet?
The mechanics of the game are simple. In each round of FIVES, participants are given the opportunity to reveal up to five football players. These players are randomly selected and could be from any position – striker, midfielder, or defender.
For every goal any of your five players scores in their upcoming matches, you'll receive a cash prize. The cash prize amount is determined by a spinning prize wheel that you get to spin after all your five players have been revealed.
This game's appeal lies in its simplicity and potential for high rewards, as participants do not need to place any bets or make any predictions.
How Much Can You Win on Virgin Bet FIVES?
There is no set maximum cash prize in the Virgin Bet FIVES game. The cash bonus per goal is determined by the spinning prize wheel, with the minimum amount being £0.10 and the maximum amount reaching up to £50.
However, keep in mind that the cash bonus is awarded for every goal scored by any of the five players in your team. So, the total cash reward can be quite significant if several of your players score in their respective matches.
Virgin Bet FIVES Fortune Wheel
The fortune wheel is a crucial part of the Virgin Bet FIVES game. After all five players are revealed, the fortune wheel spins and lands on a cash amount. This cash amount represents the prize money you will receive each time any of your players scores a goal in their upcoming matches.
The fortune wheel is a game of chance, and the cash prize it lands on can range from a minimum of £0.10 to a maximum of £50 per goal scored.
Virgin Bet FIVES Rules
To participate in Virgin Bet FIVES, players must adhere to a set of rules. The first step is to log into your Virgin Bet account and head to the FIVES section. From there, you can start revealing your players.
The players are revealed in stages, which means you won't be able to reveal all five players at once. Instead, you must log back into your account at specific times to reveal the next player.
It's essential to know that you must redeem each player before the stated deadline; otherwise, they will not be included in your team. However, even if you miss a player, your team will continue without them, and you can still earn cash rewards from your remaining players.
Virgin Bet FIVES Not Working? How To Fix
If you encounter any issues while playing Virgin Bet FIVES, there are a few steps you can take to resolve them. First, ensure that your internet connection is stable and that you are logged into your Virgin Bet account.
If the problem persists, try clearing your browser's cache and cookies or using a different browser. You can also try accessing the Virgin Bet FIVES game on a different device.
Should none of these solutions work, reach out to Virgin Bet's customer service. They are available 24/7 and can assist you with any issues you may encounter.
The Bottom Line
Virgin Bet FIVES is an intriguing free-to-play game that combines the fun of fantasy football with the thrill of sports betting. The game's simplicity, coupled with the opportunity to win real cash prizes, makes it a must-try for all football enthusiasts.
Remember to play responsibly and enjoy the game.
Virgin Bets FIVES FAQs
Whilst we've tried to cover everything about Virgin Bets FIVES above, we appreciate that you may have some additional questions. To try & help answer them, we've added an FAQ section below:
What happens if one or more of my players didn't play?
During the start of every round, Virgin Bet chooses a group of footballers they expect to participate. If any players are unable to participate for any reason, this should be considered a normal occurrence in the game. Rest assured that they account for such situations.
Is it too late if I forgot to redeem a player?
Unfortunately, once the deadline has passed, players cannot be assigned. Each round offers five available players, so it's important to check back at the indicated time to reveal your next squad member. However, the players you have previously revealed will remain active throughout the game.
Can I select a different player if I revealed an injured player?
Player substitutions are not allowed, even if you have revealed an injured player. Once a player is selected, they remain a part of your squad until the end of the game. It is essential to consider player fitness and injury status when making your selections.
Why do I have an excessive number of defenders revealed?
The player pool comprises defenders, midfielders, and strikers. The allocation of players to customers is entirely random, so there might be instances where some squads have a higher number of defenders than others. This adds an element of unpredictability and excitement to the game.
How much will I receive if I missed the final player and the amount reveal?
For specific details regarding your potential winnings, we recommend accessing the Virgin Bet FIVES game. This will provide you with the most accurate and up-to-date information on how your missed player selection might impact your potential earnings.
When will I receive my payment?
Virgin Bet strives to award any Goal Cash Bonus within three hours of the completion of the respective match. Their goal is to ensure a prompt and efficient payment process, allowing you to enjoy your winnings as soon as possible.