A topic generating a significant amount of discussion lately is the William Hill Bonus Drop. Players are curious, questioning the legitimacy of the game and whether it's rigged or not working.
On this page, we'll delve into these concerns, provide insights on what the Bonus Drop is all about, and give you tips on how to maximise your gaming experience.
What Is William Hill Bonus Drop?
The Bonus Drop is a daily opportunity offered by William Hill to their customers in the UK and Ireland. The game provides a chance to win free spins, free plays at table games, or a cash prize.
The Bonus Drop is essentially a free to play game that gives you a chance of winning up to £1000 cash, among other prizes.
How Does Bonus Drop Work?
Upon qualifying and logging into their accounts, players can launch the Bonus Drop game once a day. The game takes the form of a coin-drop or coin pusher game, similar to those seen in arcades.
Players are given one free disc per day, which they can drop into three sections of the machine – left, centre, or right. The disc then falls into the bottom slots, which are marked as either 'win' or 'lose'.
If the disc lands in a win slot, you receive a prize. However, if it lands in a lose slot, you get another opportunity to try your luck the following day.
In the image below, you can see an example of the gameplay: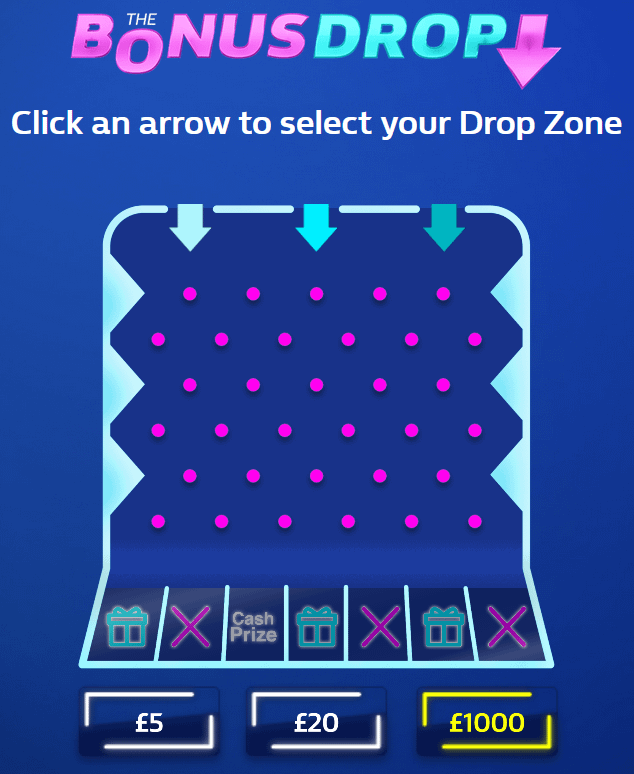 The prizes that you can win on The Bonus Drop vary, but they are mainly free spins and deposit bonus offers.
William Hill Bonus Drop Cash Prize
One of the most enticing aspects of The Bonus Drop is the potential cash prize. This is added to your account balance if you win cash on Bonus Drop.
The cash prize is indeed an attractive feature. However, to date, there has been no indication of a winner. So, the question remains – does anyone actually win the cash prize and how often is the big prize awarded? That brings us to the next points…
William Hill Bonus Drop Odds
The odds of winning in The Bonus Drop game are not explicitly stated, but it's clear that not all drops will result in a win. Most players have noticed that the 'lose' slots tend to crop up more frequently than the 'win' slots. However, as with all games of chance, winning is never guaranteed and is always subject to luck and chance.
Is The Bonus Drop Game Rigged?
Given the nature of the game, some players might wonder if the game is rigged or if the outcomes are pre-determined.
While it might seem that way, especially when a losing streak occurs, it is essential to remember that the game operates under strict regulations and laws that ensure fairness and transparency.
It's worth noting that the results are randomly generated, and players can only win prizes that have been generated for them.
William Hill Bonus Drop Not Working: How To Fix
Occasionally, players might encounter issues with The Bonus Drop, such as the game not loading or failing to display the correct information. If you're having trouble with the game, here are some tips on how to fix it:
Check your internet connection: Sometimes, a poor or unstable internet connection can cause issues with loading the game.
Clear your browser cache: If you're playing on a web browser, clearing the cache might help resolve any loading issues.
Update your browser: If you're using an outdated browser, updating it to the latest version might solve the problem.
Contact customer support: If you're still having issues, reaching out to William Hill's customer support can help resolve the issue.
William Hill Bonus Drop Gone: What Happened?
Lately, players are finding that The Bonus Drop game is not available. While it's unclear why this is happening, it could be due to maintenance or updates being made to the game.
Alternatively, it could be that the promotion has ended. If this happens, players are advised to check back at a later time or contact customer support for more information.
The good news is that if that is the case, there are still some other good pages to check out on William Hill, such as these:
Overall, William Hill's Bonus Drop offers an exciting chance to win prizes every day, but like all games of chance, it comes with no guarantees. So, while it's fun to play, it's essential always to gamble responsibly and remember that the outcome is down to luck.