Are you a resident of the UK and a participant in the People's Postcode Lottery? Or perhaps you're considering joining this popular lottery game? If so, you might be curious about the distribution of winners across the country.
On this page, we delve into the fascinating data behind the UK's Postcode Lottery Winners Map, revealing areas with the highest concentration of lottery winners and exploring some intriguing lottery-related questions.
Postcode Lottery Winners Map UK
The People's Postcode Lottery is a unique lottery game that allows players to enter their postcode for a chance to win significant cash prizes. Every participant's postcode is their ticket, making this lottery distinctly community-focused.
The winners' distribution across the UK is rather intriguing. The north of England has proven to be particularly lucky, with residents in these areas bagging the majority of the £3 million draw.
Astonishingly, only 18 out of 45 winners (about 37%) have been from the south. This compelling data indicates that if you're a resident in the northern part of England, your chances of winning the People's Postcode Lottery seem to be somewhat elevated.
As reported in the Daily Mail, here is a map of Postcode Lottery winners around the country: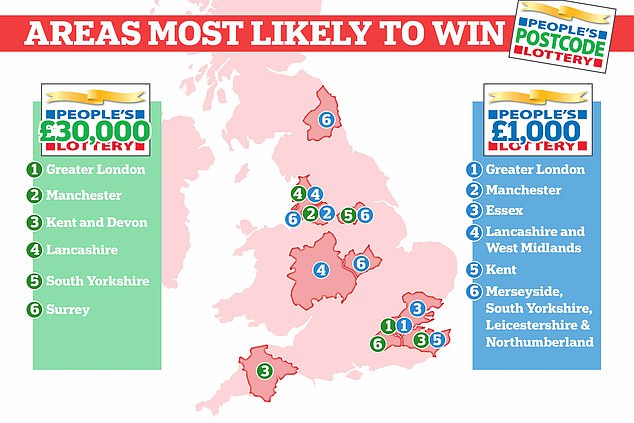 What's The Luckiest Postcode In The Postcode Lottery?
When we delve deeper into the data, some regions stand out as especially fortunate. According to recent results from the People's Postcode Lottery, postcodes in Devon have had the most £3 million draw winners— a remarkable five since 2016.
Greater Manchester follows closely with four winners, and Worcester and Merseyside tie in third place with three winners each.
In Scotland, Lanarkshire appears to be the luckiest region, with six winners in 2019 alone. However, Wales hasn't fared as well, with no winners of the £3 million draw since it began in 2016.
Can You Play Any Postcode In The Postcode Lottery?
The People's Postcode Lottery is exclusive to UK residents and only postcodes registered in the UK are eligible for play. Therefore, international postcodes are not valid for entry.
The lottery operates under the premise that every ticket is a valid UK postcode, which you select upon registration. Once registered with your postcode, you're automatically included in every draw.
Can You Play The Postcode Lottery With 2 Postcodes?
Yes, you can play the People's Postcode Lottery with two postcodes. However, each postcode would require a separate ticket, which means you'd need to pay for each ticket individually.
Playing with two postcodes effectively means you're doubling your chances of winning since each ticket is entered into the draw separately.
Why Do Some People Win More On The Postcode Lottery?
The distribution of winners in the People's Postcode Lottery can sometimes seem uneven. This imbalance is primarily because some areas have a larger concentration of participants than others. Therefore, regions with more players are likely to have a higher number of winners.
In 2019, Greater Manchester emerged as the luckiest region for the £30,000 draw, with nine winners. This high number of winners is likely due to a large number of participants in the area. Similarly, Kent followed closely with eight winners, likely due to a high number of players in the region.
Overall, your chances of winning the People's Postcode Lottery depend on a few factors—your postcode, the number of tickets you have, and the number of participants in your area.
So, if you're considering joining the People's Postcode Lottery, you might want to keep these factors in mind – and here's how to check how many of your neighbours are in the Postcode Lottery.